Bustin' Into Brussels
It's starting to really hit me how quickly time flies. It's been exactly one month since I arrived in the Netherlands and it feels as though I just stepped off the plane a few days ago. I decided that I'm not going to waste any time whatsoever and of course that means... trips! Day trips, week trips, weekend trips and anything else that will keep me occupied.
My friends and I spent the weekend in Brussels, Belgium. We mainly planned this last minute trip to satisfy our craving for Belgian waffles but the pretty buildings and cool museums were a bonus.
We booked a round trip bus ride with Eurolines from Utrecht Centraal which took about three hours each way. We arrived on Saturday afternoon and left on Monday evening. Three days was the perfect amount of time to spend in this extremely underrated European city. Upon arrival, we headed to our hostel which was located a bit outside of the city (we booked last minute so many of the other hostels were full). After dropping off our bags and checking into our rooms, we headed towards Grote Markt, which is also known as Grand Place.
I had no idea what to expect of Brussels as I was happy with just spending the weekend stuffing my face with chocolate. I was pleasantly surprised by the beauty and architecture that surrounded us. Strolling around Grand Place felt like love at first sight. We spent a lot of our time just sitting in the centre of the square and admiring the gold. There are tons of shops, chocolatiers and places to get waffles around that area. It's mainly filled with tourists but it's a nice place to unwind after a long day of walking and roaming the city.
This is definitely a place you need to check out both during the day and at night. Once the lights switched on after sunset, it gave us a whole new image.
It was absolutely breath-taking.
Of course, the waffles were almost as good as the views. Whether you're looking for a higher end sit-down dessert feast or an on-the-go snack, you can pretty much find waffles on almost every street. Don't get too excited when you see the "1 Euro" signs though....As we learned, once you add on your toppings it ends up being between 5-7 Euros (still worth every penny).
As for nightlife, there's a well known bar near the centre called Delirium Café. If you are ever in Brussels be sure to check it out! This bar holds the Guinness World Record for the most types of beer in one bar (2,004). There's about three or four floors and it's almost always packed with people. It's a fun atmosphere, especially on a weekend. The music was great and the decor was extremely unique. We had to try the "best beer in the world," otherwise known as Delirium Tremens. I have to agree, it definitely is one of the best I've ever tried.
Later in the weekend we made our way to Atonium, which is a famous monument in Heysel Park.
The atom was created for the World Fair in 1958 and consists of nine steel balls structured together with escalators connecting each one inside. I had no idea that each steel ball is a different section of the museum. While inside, you are able to get optimal views of Brussels. Unfortunately, it was completely cloudy the day we went. I would recommend checking the weather in advance and visiting Atonium when you're guaranteed some sunlight - that way you can also enjoy a walk through Heysel Park, which is supposed to be amazing in the summer.
While strolling back into the city, we managed to walk through Mont des Arts during the sunset. Utrecht has been rather gloomy so this is the first real sunset I've seen since I left Toronto. It was well worth the wait.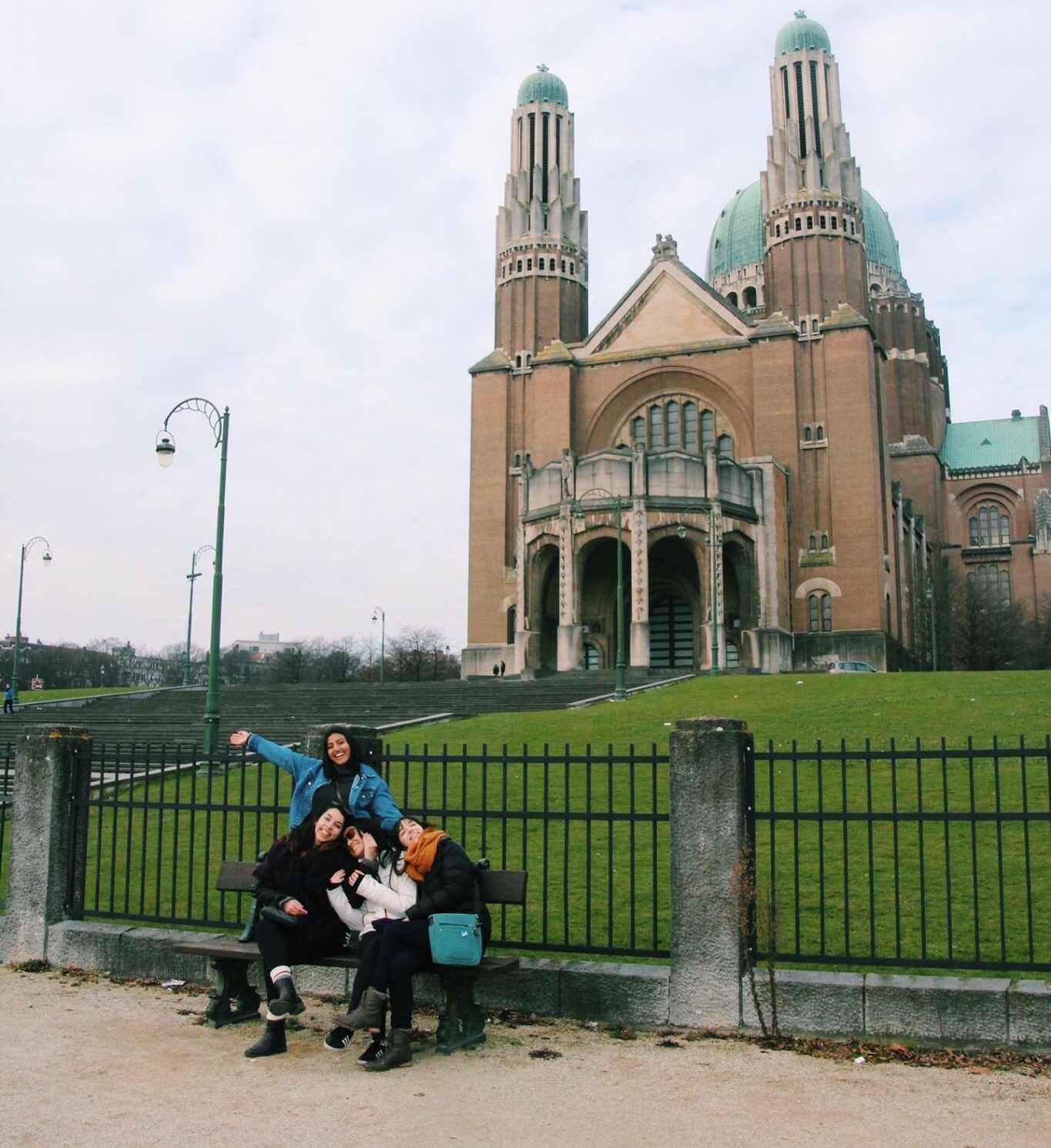 I probably consumed at least 5,000 calories in one weekend so I think it's time to end the denial and finally get my gym membership. Overall, I had an amazing few days exploring Brussels and I would absolutely re-visit. There are tons of hidden gems around the city and it's the perfect weekend getaway if you're doing an exchange in Europe! If you ever find yourself in Belgium, save me a waffle.

- S.